WELCOME TO OUR WEB SITE

Thanks to everyone from supporting our Annual Tea and the Elma Historical Society

Mission Statement of the Elma Historical Society

The Society collects, preserves and exhibits materials pertinent to the social and cultural development of the Town of Elma and surrounding areas. The collections are used to advance the understanding of the customs, traditions, attitudes and lifestyles of rural America with emphasis on the 19th century.

Below is a short video of the moving of the Elma Town Museum (Hurd House) in 1988.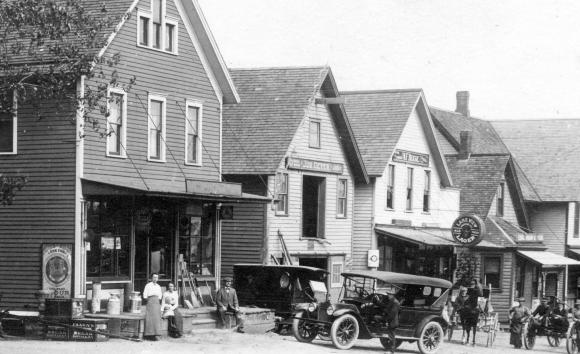 Elma Center Business District about 1913. From the left, Homer Hoyt's general store, Joseph Geyer's blacksmith shop and livery stable, Bill Beicke's saloon, Frank Slade's seed store, and Peter Grader's saloon. A September 25, 1922 fire gutted the entire block. A store, house, garage and restaurant were rebuilt on the site but everything except the store was destroyed by fire during the fall of 1936. The Log Cabin now stands on the site. On the porch of Hoyt's store are Mr. and Mrs. Hoyt and Edna Miller Bridgeman. Standing at the feed store is the proprietor, Frank Slade Sr.
Contact: elmahistory@aol.com